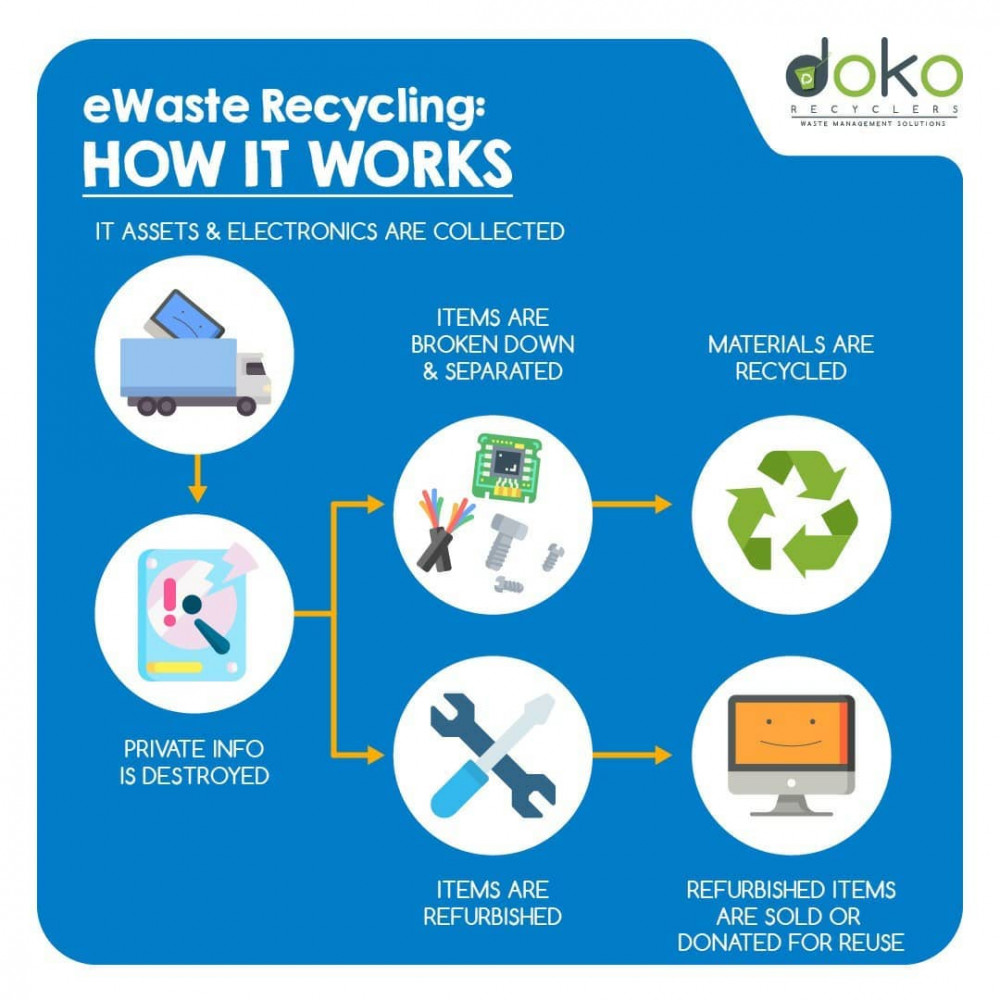 2022-01-14
Doko Recyclers' E-waste Services
Curious about what to do with your electronic and electrical waste after you have used them? Look no further than Doko Recyclers!

Doko Recyclers is Nepal's first registered electronic waste (e-waste) management company. We have collected more than 100 tons of e-waste from companies and households between August 2017 and December 2021. The collected waste mainly consisted of TVs, mixed electronic waste and Uninterruptible Power Supply (UPS) devices used to balance changes in power voltage as well as laptops, cell phones, batteries, refrigerators, air filters and cables.

In keeping with our goal to protect the environment, we make sure to dispose and dismantle all the e-waste we collect in an environmentally friendly way. We use machinery such as the Bulb Eater and Wire Stripper that isolates hazards like mercury gas and maximizes resource recovery while protecting our staff from health risks.

Here are the various ways in which we manage e-waste:

1. E-waste Collection
Doko Recyclers collects a wide range of obsolete or end of life electronics and other information technology and telecommunication equipment. Doko collects these items for reuse, refurbishment, and recycling. If you have any devices or electronic appliances that are too old, do not work anymore, or are going to be replaced, you can contact Doko to make sure that your e-waste is recycled or disposed of in an environmentally responsible way. Below is a list of some common items that Doko collects:

1. Monitors and Screens: Laptops, Computers, Television

2. Large Equipment: Photocopy Machines, Servers, Home Appliances

3. Small equipment: Hard Disks, Printers, Circuit Boards, Wired Cables, Keyboards, Mobile Phone Accessories, Projectors, Small Home Appliances, Cell Phones and Tablets

4. Small IT and Telecommunication Equipment: Routers, Cables, Network Equipments

5. Temperature Exchange Equipment: Coolers, Refrigerators, Air Conditioners

2. Data Destruction
Doko Recyclers offers data destruction to clients who are in need of safely erasing sensitive and confidential data. Hard drives and other devices that hold information are destroyed through thorough electric drilling and hammering, and their components are recycled. Data destruction can be done either at the Doko site or at the client's location. Once the process of data destruction is completed, the client is provided with a Certificate of Destruction, which guarantees complete and irreversible destruction of the data provided.
3. IT Asset and Mobile Device Dismantling and Disposal
IT assets are dismantled manually using tools by expert technicians. The components after dismantlement are segregated and sent to recycling. Likewise, mobile devices are drilled, hammered and circuit boards are broken manually. These components will be segregated after destruction and sent to the recycling factories as raw materials For both of the activities, a letter of disposal will be issued.
4. Refurbishment
Doko Recyclers believes in using available resources efficiently and minimizing e-waste. One way we achieve that belief is through refurbishing and remarketing used devices. When we collect your e-waste, we determine whether certain discarded devices can be refurbished. If so, our team of technical experts repair the devices at a commercially-certified level. We reintroduce the repaired devices to the market at a very affordable price. This practice is highly beneficial in several ways:

1. The process of refurbishing and re-marketing encourages employment

2. Re-introduces the product into the market

3. Drastically lowers e-waste levels

4. Saves resources that otherwise would be wasted

Our e-waste management staff is properly trained and fully equipped with personal protective equipment (PPE) such as gloves, masks, protective clothing and eye protection during e-waste dismantling and refurbishing.

If you would like to donate or sell your e-waste to Doko Recyclers, please call us at 9802044436. You can also drop off your e-waste at our Materials Recovery Facility in Sano Thimi or our City Office at Jawalakhel.