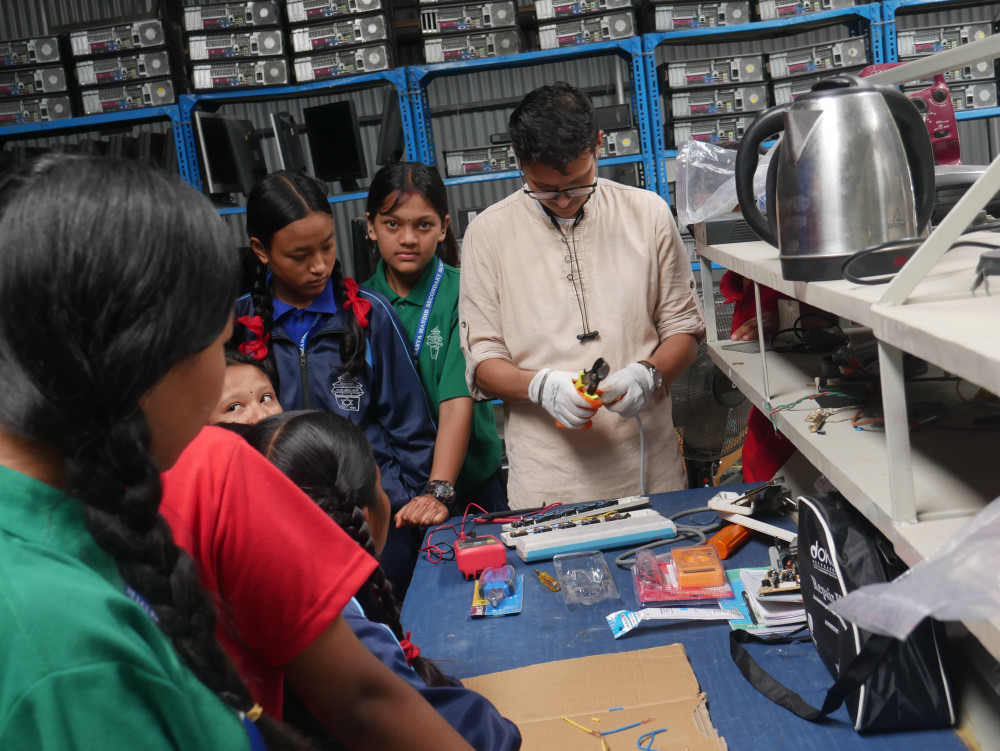 2022-09-11
Repair Revolution Workshop
After five months of constant brainstorming and diligent labor, Doko Recyclers is delighted to announce the launch of the first session of the Repair Revolution Workshop (RRW) with 19 students from New Star Pole School(NSPS) on 17th June 2022. The first iteration of this experiential workshop was supported by REPIC Switzerland, as part of Doko's e-waste initiative, and in collaboration with Karkhana.
The successful completion of the 6-day RRW with NSPS encouraged us to approach and consolidate more schools in the program. We then reached out to two governmental schools, Kanya Mandir Secondary School and Shramik Shanti Secondary School, considering the lack of opportunities for vocational education in public schools. We offered full scholarships for public school students as well. Altogether, we accomplished the e-waste repair training of 55 students and are planning to make the training accessible for a larger mass.
According to the Ministry of Environment, Nepal generated 28,000 tons of E-waste in 2019, andthis rate is increasing annually by 7%. This E-waste which has a large potential to be repaired and recycled is being discarded as waste. This culture of haphazard disposal of E-Waste into rivers, streets and landfill and open burning is causing harm to the environment. Hazardous substances found in E-waste include mercury, lead, polybrominated flame retardants, barium, and lithium is known to be harmful for public health causing various respiratory and other complications. Therefore, as the country's first E-waste management company, it was of our utmost priority to raise the awareness on proper handling and disposing of Electrical and Electronic Waste (WEEE). We initiated RRW with an objective to prolong the life-cycle of WEEE simply by teaching students on how to repair. RRW's curriculum was designed to facilitate experiential learning and development of repair skills, focusing primarily on 'Training of Trainers'. The integration of youths through RRW will not only help in the promotion of dwindling repair culture in Nepal but would also assist in spreading E-waste awareness, preventing environment and health hazards.
For each school, RRW was conducted for five to six days, in which each session ran for four hours. The sessions included presentations on solid waste management with an emphasis on E-waste, theory and practical classes on dismantling, E-waste audit, soldering, desoldering, wire stripping. The last day, the Ideation Day, was two hours longer than the other sessions where students focused on honing the practical skills they had learned during the workshop. Overcoming our shortcomings from the first RRW (New Star Pole School), we reframed the structure of the curriculum, reducing the execution days from six to five and planned the workshop execution in consecutive days.
We selected 18-19 students from each of the three schools. The students were grouped into five groups constituting 3 students in each. At the end of the workshop, the students were provided with a Repair Kit which included the essential tools for repairing. The students were further motivated to use the Repair Kit and hand out to those who wanted to repair WEEE.
| | | | |
| --- | --- | --- | --- |
| School | Execution Date | Ending Date | No. of participants |
| New Star Pole School, Kadaghari | 17th June, 2022 | 15th July, 2022 | 19 |
| Kanya Mandir Secondary School, Chhetrapati | 19th July, 2022 | 24th July, 2022 | 18 |
| Shramik Shanti Secondary School, Chyasal | 8th August, 2022 | 14th August, 2022 | 18 |
The students felt empowered by learning e-waste repairing skills, especially girl students, who comprised more than 70% of the total participating students. With this workshop, the girl students were ready to take on the job of repairing household WEEE. We were glad to spark this change within them. Several recommendations were made by students, like the addition of more household WEEE repair sessions, and guidance during the brainstorming and ideation phase.
To improve the effectiveness of the sessions, the participants recommended aspects will be combined for the upcoming sessions. More focus will be given to practical classes. We are set to train 18 students of Pragti Sikshya Sadan by fully funding them for RRW. If you want to take part in RRW, you can reach us at hello@dokorecyclers.com