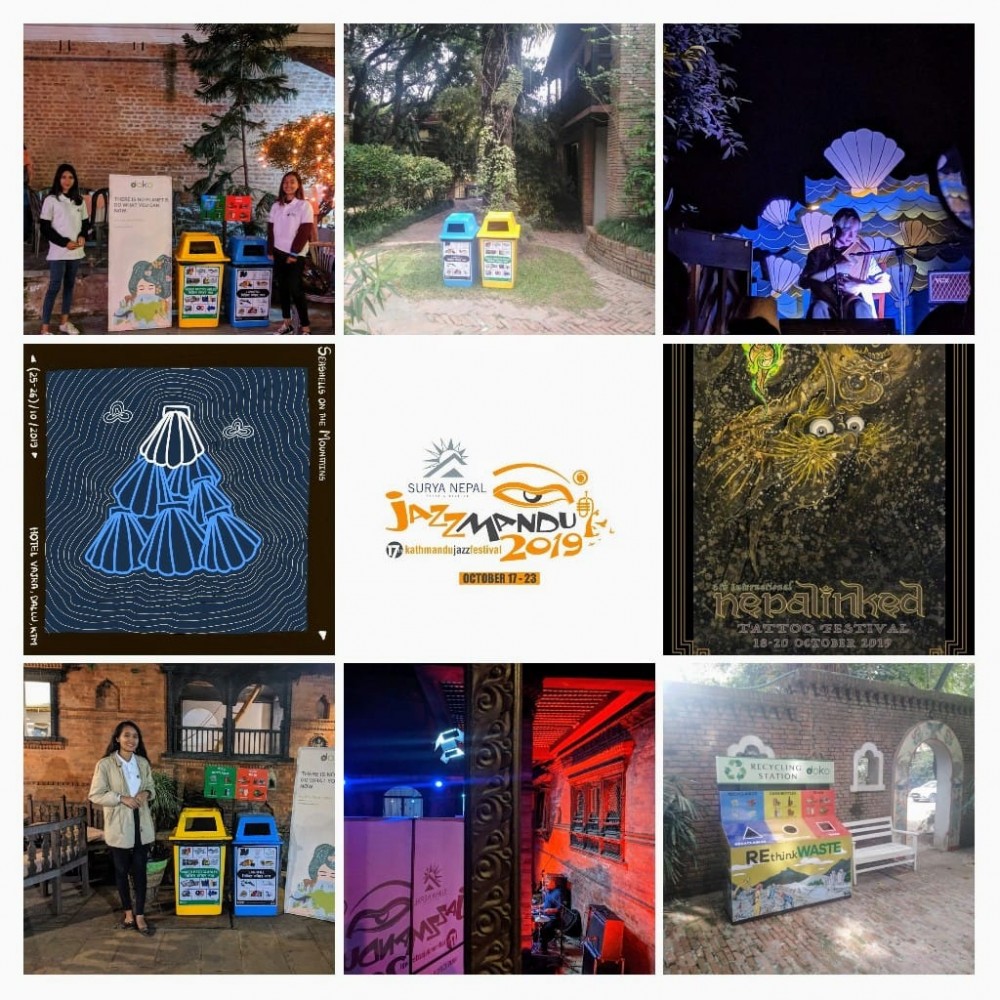 2019-11-10
Taking the Lead on Sustainable Events
The week between Dashain and Tihar this year was a busy one for us as we partnered up with two musical events and one tattoo convention: the timeless Jazzmandu, the ethereal Seashells on the Mountains and the ever exciting International Nepal Inked Tattoo Festival.
You may not have realized but events produce a lot more waste than we think they do. In the span of an evening or a day, think about all the plastic cutlery you use, the beer cans you discard, and the plastic bottles you drink from during events you attend. If the footfall of an event is 200, that is about 200 (or more) pieces of plastics or aluminium cans going to the landfill (if the event does not recycle, of course). Now assuming the event is plastic free and/or recycles, we can salvage those pieces of recyclables and mitigate our impact on our landfills and the environment.
With this in mind, we partner up with event organizers across Kathmandu to salvage what dry recyclables we can during events. Such partnerships not only serve to retrieve recyclables from events but are an excellent way to teach the general public the importance of segregating waste at source. The Nepali audience isn't attuned with recycling items such as plastic bottles, plastic packaging, and plastic cutlery, so events are an excellent opportunity for us to educate the masses and broaden their understanding of recyclables. Some event attendees did struggle to separate their nonrecyclables such as leftover food scraps from their recyclables items such as plastic utensils, paper cups, cans, and beer bottles. However, others were quick to learn that paper and plastic and not to mention, glasses and aluminium cans, are recyclable.
What we've found works for proper disposal of waste materials during events is the constant presence of volunteers manning our bin stations. Often times during events, proper disposal is the last thing on our minds during events and many of us get careless throwing away our waste. Most of us see a trash can and throw our plastics, momo achars, and cutlery all in the same bin without a second thought. We, at Doko, are trying to change this. With a decision that spans five seconds and with the guidance of a trained volunteer, you can easily separate your recyclables from your non-recyclables and save not only our landfill but also our environment, while recovering valuable materials at the same time.
We hope the lessons our event attendees learn from the simple act of recycling will be carried over with them. They will learn to not only start recycling at home but think about the materials they consume on a daily basis to make conscious consumer choices. Of course, all of this would not have happened if it wasn't for our event organizers and partners who reached out to us to make a difference for the environment and for our society at large.
If you have an event in mind that would benefit from our services (and we believe all events will!), definitely reach out to us via our Event Waste Management form. We would love to support any event organizer who wants to make a change and organize a sustainable event, and we are open for event partnerships no matter what the nature or scale of the event is.