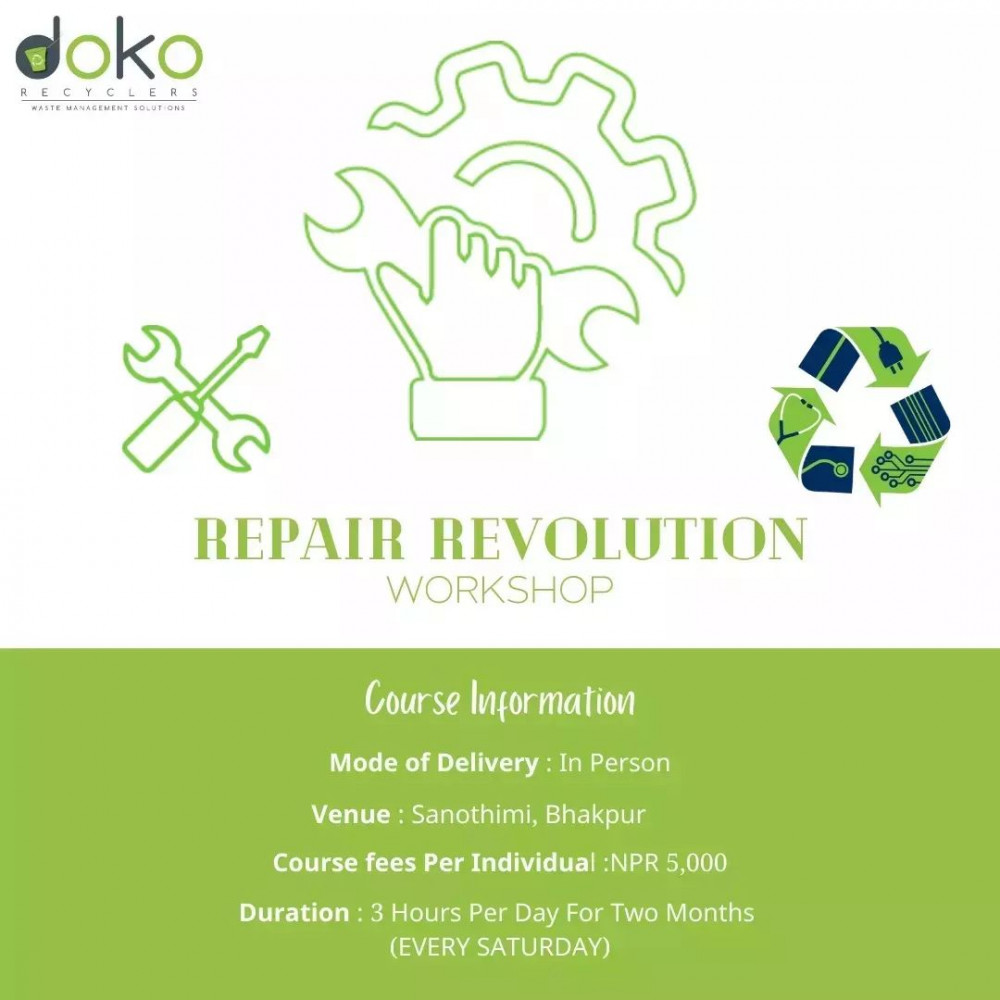 2022-03-15
Welcome to the Repair Revolution
What do you do when your multi-plug stops working? You probably will throw it away hoping it reaches the right recycling station. Some of you might even take a step further by finding an authorized recycling company and dropping the e-waste there. What if you could reuse the e-waste instead of looking for companies that recycle or just holding on to a broken gadget, simply by learning how to repair it. Sounds revolutionary, right? Come be a part of the 'Repair Culture' and join our 'Repair Revolution Workshop'!
First of all, let's understand the need for repairing Waste Electrical and Electronic Equipment (WEEE) in Nepal. According to the Ministry of Environment, Nepal generated 28,000 tons of e-waste in 2019, and this rate is increasing annually by 7%. We are increasingly buying more electronic items which are manufactured in such a way that they become unusable in a few years. This means more WEEE.

Right now, we are dumping our WEEE in the river, streets, and landfills. Acid leaching and open burning of WEEE means we are releasing harmful gasses in the air affecting our environment and public health. This also means our resources are going to waste instead of being recycled. The range and complexity of components in WEEE make it difficult and expensive to dispose of or recycle safely. As a result, there are a limited number of Nepalese recycling companies hindering the efforts of recycling from the public.

The limitations of recycling and ill-practices of WEEE management can be countered by educating people on repair and equipping them with necessary technical skills to foster repairing actions. Repairing extends the longevity of the product, reduces the need for extraction of resources, and promotes a circular economy. Enlisted below are a few advantages of the repairing culture.

Repair makes our electronics last longer which is both efficient and cost-effective than mining them for raw materials.

Repair is economic. Fixing things is often free, and usually cheaper than replacing them. Doing the repair yourself saves you money.

Repair teaches engineering. The best way to find something that works is to take it apart.

Repair saves the planet. Earth has limited resources. Eventually we will run out. The best way to be efficient is to reuse what we already have and refrain from hazardous practices like dumping and open burning.

Repair strengthens community ties. The repaired electronics can be made available for second hand purchases to those in need. The ones with repairing knowledge can share this skill with others.

Repair is sustainable and fosters a circular economy. Youths trained in repairing skills can enter the repairing workforce. The recovered resources can be redirected to the supply chain. An assertion of 'Right to Repair' will exert pressure on the manufacturing companies for product's lifecycle and disposal.

The Repair Revolution Workshop is a Doko Recyclers initiative that promotes dwindling repair culture in Nepal which will be supported by Karkhana-Nepal. We aim to promote youth actions in repairing culture and help in their integration and mobilization for the development of the repair market. The workshop will educate upper primary and secondary level students on WEEE, its repairing techniques, and proper dismantlement methodology. The participants will hone their technical and problem-solving skills through an experiential learning. The workshop is based on 'Training of Trainers' which will empower these students to promote repairing to their peers and community people. A session will include 20-25 students who will be guided by two facilitators to shape their ideas into a plan. The students will work on a project and showcase it in an exhibition on the last day. Doko Recyclers will also encourage them to consider repairing as a career.

● Mode of Delivery: In person
● Course fees per individual: Rs. 5,000
● Duration: 3 hours per day, 8-days (every Saturdays)

● What you'll learn:
➔ Day 1: Students will get to experience the waste management system at Doko
Recyclers focusing on segregation of waste at source and recycling. They will
learn the thorough process of e-waste management especially targeting e-waste
dismantling, refurbishment and repairment.

➔ Day 2: Students will play and learn the use of basic electronics such as LEDs,
Motors, and Batteries. They will even try to make different circuitry as instructed
by the facilitator.

➔ Day 3: Students will learn various methods of soldering and desoldering.
Additionally, they will be introduced to the concept of refurbishment and repairing
culture.

➔ Day 4: Students will make small project based on the problem statement
designed by the facilitators and to do that students will use their knowledge of
previous class such as dismantling, desoldering, electronics, circutary and by the
end of today students will get learn about user centric design approach.

➔ Day 5-8: Students will be introduced to different brainstorming techniques where they will be working in a group, come up with the ideas for the final problem statement and start making their project.

In the age of technology, WEEE is a growing problem but it does not have to stay one. By repairing, refurbishing, and recycling WEEE, we can create jobs, increase technical skills, and bolster the economy. While we have a long way to go towards creating better platforms for recycling and repair, we are committed to educating the youth so they are better equipped to bring sustainable changes to our futurescape, especially when it comes to WEEE.

If you are interested in funding students to be a part of our Repair Revolution workshops or are an educational institution looking to equip students with repair skills, give us a call at 9802071517.